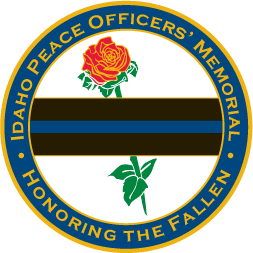 The Idaho Peace Officers' Memorial is located in Meridian, Idaho on the grounds of the Idaho State Police Headquarters. The purpose of the memorial is to recognize the sacrifices of those officers who have given their lives in the line of duty for citizens of the state. The memorial provides a place of solace for families of these fallen officers and also honors those who currently serve the citizens of Idaho as peace officers.
Each year after the week of May 15 (National Police Week), groups of people gather together to honor the peace officers who gave their lives in the line of duty: Surviving spouses grieving a lost partner, children missing a parent, older couples who have survived their son or daughter, brothers, sisters, and fellow peace officers.
Idaho Peace Officers' Memorial Ceremonies have been conducted at the Memorial since 1995. It is a ceremony that honors the officers who have fallen in the line of duty, recognizing the sacrifice of those loved and left behind.
It is important that we, as survivors, recognize that these officers did not die in vain. The people owe a debt to those who have given their lives, and the peace officers of this state want this memory to stay fresh in the minds of the citizens. That is why we must reflect during this time set aside to reflect on courage and sacrifice; and, to assure that their loss will not be forgotten, and the survivors will always be a part of the law enforcement community.
Constructed and dedicated May 15, 1998, the Memorial is designed as a five-point badge laid in a red-bricked walkway. The center of the star is the focal point: three sandstone boulders stand proudly within the center of the star.